Hadleigh: Police volunteer horse and rider team win national awards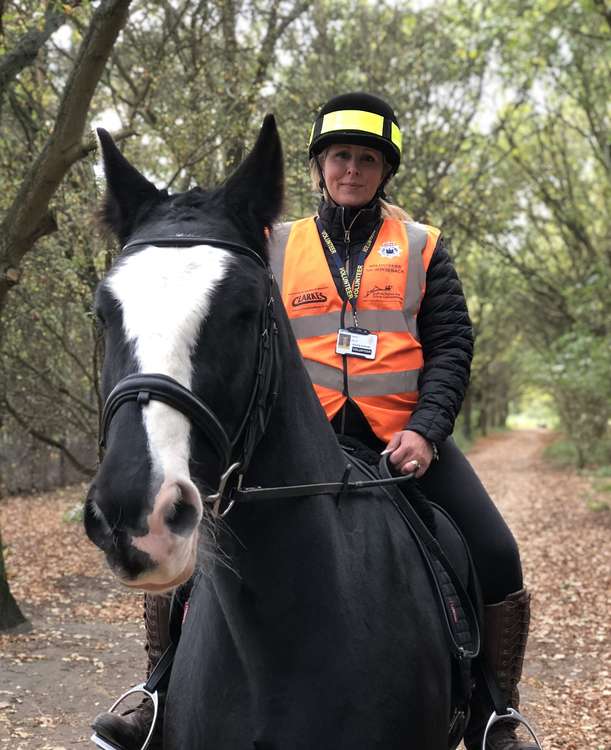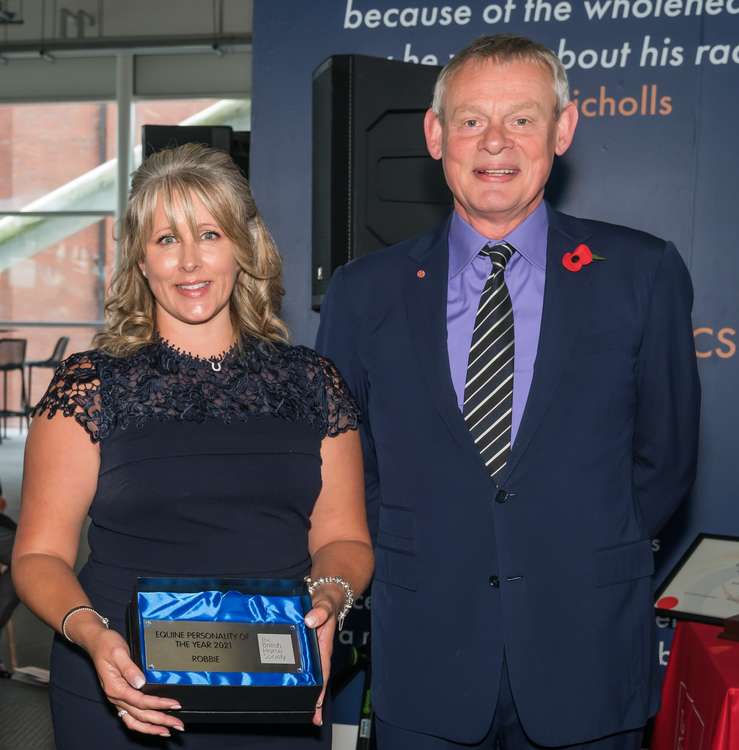 Suffolk police support volunteer Sarah Hills has won the Unsung Hero category in the national awards from the British Horse Society and picked up her certificate from its president Martin Clunes.
Sarah, a keen rider, is one of Suffolk Constabulary's mounted volunteers and part of the "Eyes and Ears" scheme encouraging rural communities to report any criminal activity in their neighbourhoods, including Hadleigh and surrounding villages.
She is also currently taking part in the national Ready2Help Campaign, which raises awareness about volunteering opportunities in the Police. The campaign is run by the Citizens in Policing unit and riders from the villages surrounding the Hadleigh area are encouraged to saddle up and follow in their hoof steps.
Sarah was presented with the Unsung Hero Award 2021 by Martin Clunes, better known as TV's Doc Martin, at Newbury racecourse. Her horse Robbie wasn't left out of the celebrations – he won the Equine Personality of the Year award 2021.
"It was a fantastic event, a real joy," said Sarah. "As well as the presentations and a speech from HRH the Princess Royal we had a charity race day to follow too."
A police volunteer for seven years, Sarah and Robbie have also completed a 50-mile ride through east Suffolk for charity in 2018. The pair are often seen out in the north of the county reporting anything suspicious.
Sarah attended the ceremony with her mother, Lesley, and daughter, Chloe, and is in no doubt that her award is down to her very special horse: "We work as a team and Robbie has been at the forefront of both my Police volunteer role and a positive influence in my personal life. He has attended my wedding, my children's christening day and also Hallowe'en pretending to be a skeleton.
"This partnership has enabled me to achieve so much more both professionally and personally. Robbie is special not only to me and my family but to all his fans.
"We are often out and about in the community to engage with people as part of the rural policing strategy and during lockdown we wanted to present a friendly face to people who felt a little isolated along with positively providing a presence in the community.
"I am really proud to receive this award and, as Robbie's voice, I know he would be, too, having clip-clopped thousands of miles over the years for good causes and supporting our community. Now we have awards covering two years.
"We love our work here in this part of Suffolk – becoming a support volunteer enabled me to embrace both a professional and personal challenge outside of my career. I want to thank all of my police colleagues for their support and encouragement, it's been an honour to be part of the Police Support Volunteer team which has allowed us to be given this amazing recognition."
Suffolk Constabulary's Citizens in Policing Manager, Karen Harris, explained how the police were looking for more horsing volunteers, from places such as the Hadleigh area, and added: "We are very proud of Sarah and Robbie winning this special award as recognition of their contribution to supporting Suffolk Constabulary in keeping their local rural community safe.
"Mounted police support volunteers are our eyes and ears in rural areas and they report anything suspicious or unusual directly into our Safer Neighbourhood Teams and our Rural Crime Teams. We are grateful to all of our volunteers for the support they offer our organisation in keeping the county of Suffolk safe."
BHS Chief Executive James Hick said: "A big congratulations to all the BHS Annual Award winners from the past year. These awards are our way to reward and recognise the incredible achievements of our volunteers, supporters and partners."
Suffolk Police and Crime Commissioner Tim Passmore said: "Well done and congratulations to Sarah and Robbie. They thoroughly deserve this award and I am pleased to see Sarah's commitment and enthusiasm to her community recognised nationally.
"Sarah is a great ambassador for the volunteer on horseback scheme and I'd like to take this opportunity to thank her, and all our volunteers, for the invaluable support they give the police acting as the eyes and ears of the community.
"Our horseback volunteers do a fantastic job supporting the Constabulary by being a highly visible and accessible point of contact. They offer a reassuring presence in local communities and are a valuable addition to the Police Support Volunteer team embedded across Suffolk Constabulary."
If you are interested in volunteering for Suffolk Constabulary please visit: www.suffolk.police.uk to view our current vacancies, follow us on Twitter @SPVolunteers or email: [email protected]